The Awards
Every award winner will receive a free PDF of their Award Certificate.
There are two levels of awards:

1. Scoring Awards are PDF Certificates which are included with the filmmaker's scoresheet and judges comments on the scoring notification day. These are non-competitive and are based on the scores of three judges who screen and score each film, as well as cast and crew individual achievements. Films must receive a minimum averaged score of 70 to receive an award and individuals must receive a minimum averaged score of 7.

2. Festival Awards are competitive and are based on the judges scores. The top 3 award-winning films of each genre are then nominated as the best of that genre. This means your film must score at least 70 out of 100 points to be nominated. For example, in the Drama genre, the highest scoring film wins Best Drama of that season, the second highest wins Best Drama Award of Excellence, and the third the Best Drama Award of Merit.
Category winners will receive an InkTip Script Listing to promote themselves and their scripts to InkTip's entire network of producers, managers, and agents. Companies who are InkTip members include: ABC, Anonymous Content, APA, CBS Films, HBO Films, ICM, Paradigm, Paramount Pictures, Hallmark Channel, FX, Universal, WME, Echo Lake, Zero Gravity, Bad Robot, 20th Century Fox, and many more. Producers have made more than 315 films from scripts and writers found through InkTip.
All festival awards are given out at the Awards Presentation at the end of the screenings. This is a black-tie optional event with a host who will show shorts clips from each nominee, then open the envelope and announce the winners. Each winner present can come to the podium to receive their award and the entire event is videoed and available on our website the following week.
We also give Best Of Show trophies for Best Picture, Director, Screenplay, Actor, Actress, Cinematographer, Editor, Sound Design and Soundtrack.
Check out our Awards Store by clicking on the certificate below.
Award Winners have the option of purchasing an Award Certificate printed on 8.5" x 11" cardstock fo $20, a wall plaque for $50 or a trophy for $100, plus shipping. These pictures are for illustration purposes only and the actual plaque and trophy may change without notice.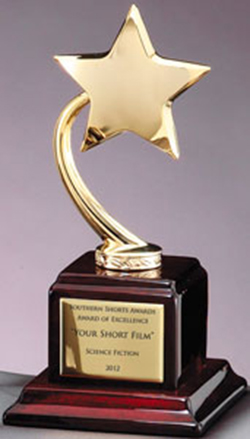 c